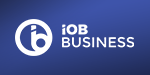 iOB Business - Digital Agency Franchise
Help local businesses improve their digital footprint by launching a Digital Agency. Provide technology solutions with no prior experience.
Watch Video
Finance requirements

Minimum Investment:

$6,995

Areas Available

Worldwide
Profile

Launch a Digital Agency With No Prior Experience
The world has changed and the current situation has amplified the need for businesses to invest in technology solutions. Customers are spending more time online than ever before.
Local businesses can't rely on traditional methods to grow and they understand the need to improve their digital footprint.
Join the iOB Business network and help businesses embrace their digital transformation.
Welcome To Your Digital Agency

Unique Technology
Our user friendly platforms have been developed over 3 years. They allow you to help any business with their online presence including customer reviews, social media, bookings, ordering and websites. The perfect blend of solutions without any technical skills.

Lifetime Support
Kick off with 2 days of live training designed to show you how to build and sell solutions to local businesses. Access our dedicated support team and leverage our Learn Centre for additional video training covering every aspect of your Digital Agency.

Branded Resources
Launch with a partner centric brand including a bespoke website, brochures and business cards. We ensure you are operational on day 1 with access to our Digital Office that contains everything you need to grow your business.

Income Goals
Benefit from over 10 different revenue streams that allow you to work with over 100 different industry sectors. Charge your clients an onboarding fee as well as a monthly fee with the opportunity to upsell and cross sell at any time.
Lower your risk by breaking-even with just 5 clients.
We Want To Hear From You
There has never been a better time to start a business. With so much uncertainty around the job market, you owe it to yourself and your loved ones to take control.
Enquire with us if you are ready to:
Follow your passion
Help local businesses
Exceed your income goals
Partnering with us means you're joining our established network with a presence in 3 continents and rapid expansion opportunities worldwide.
Enquire with us and start your journey to becoming a Digital Entrepreneur. It's time to exceed your income goals.
Partner Review

"It was fantastic. I thought the presenters had an excellent level of insight into the content and business management in general and that with every question, they answered them with finesse and deep thoughtfulness. I loved that they were open to questions and always gave in depth answers that thoroughly resolved any follow up questions that I had."
Chiquita R.
CONTACT US TO FIND OUT MORE!