A great advantage of selling a website is that you're not limited by a physical location, so you have a higher chance of finding the right buyer.
Running a web-based company offers entrepreneurs the chance to operate from home, with minimal overheads and less risk and the ability to target a worldwide audience. As e-commerce revenue continues to grow, now is a great time to sell your online business.
Sector overview
In 2018, web-based retail sales in Canada came to approximately CA$1.6 billion. Revenue generated within the e-commerce market is forecast to exceed CA$55 billion by 2023 – a whopping CA$40 billion increase in five years – making it a favourable sector to break in to.
Canadians have shown an increasing readiness to embrace the e-retail space, with online shoppers becoming more receptive to new payment methods and growing more confident when storing data and card details on retail websites.
Despite retail being a large part of the e-commerce industry, there are also many other types of business, such as marketing consultancy or webinar services, that you can run online. Selling a website has certain differences compared to a business with a physical premise.
Valuation
It's important to understand how to value a website and know your company's long-term worth. The average sale price of a lucrative website is six to ten times more than its monthly profit figure, which is a much higher rate compared to valuing a bricks-and-mortar business.
Instead of focusing on the current revenue your website generates, determine the long-term value and consider the potential growth over time. If your website has a strong social media presence or ranks high in Google searches, it could greatly increase the business value.
You may consider appointing a broker to manage the sale of your website, they will determine a fair and impartial price and may have a wealth of contacts and potential buyers. Try to find an agent who has experience in selling online businesses.
Marketing
Many website sales are advertised online due to the pure nature of the business; however, your adverts should differ according to the type of audience you hope to attract. The type of website you run will affect where and how you advertise your listing.
You can also research other website listings, especially those that have achieved a high sale price.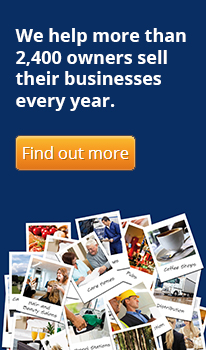 Consider what information and figures these listings disclosed, and what sales tactics have been used; the more information you include, the more interest your ad will generate.
If your website deals with a specific niche, try to appeal to entrepreneurs within that niche. Know who your target buyers are and market your proposition directly to them; this may help you attract more than one interested party, which can result in a bidding war and higher sale price.
Prepare for sale
Getting your accounts in order is a vital step for anyone selling a business; prospective buyers may ask to view that last three to five years of accounts. Make sure your bookkeeping is up-to-date and well-organised before you put your business on the market.
Interested parties will carry out a due diligence check on your business; they may examine how effective your web systems are for daily operations and check how consistent and accurate your data is. The more information you can offer, the better position you will be in.
You can never start your sale preparations too early; many business owners will outline an exit strategy before they even start their business. Make sure you have analytic systems in place to show where your hits and leads are coming from, and to track your websites traffic.